For information on the HRC Dinner
click here
For tickets to Sondheim,
click here.
The first thing you should write in your calendar for this month... I'll wait a moment whilst you pull out your blackberry's.... is February 20th, when we'll be having our first ever Smoking Cocktail LGBT Networking Mixer for Out Media Professionals.
The Smoking Cocktail
Industry Networking Happy Hour
Wednesday, 2/20
8 pm - 10:00 pm (but stay 10 pm - 2 am for HOTEL)
The Standard Hotel, WeHo
Purple Lounge.
Then afterwards, head over to the Standard to give a little love to my favorite photographer, Adam Bouska.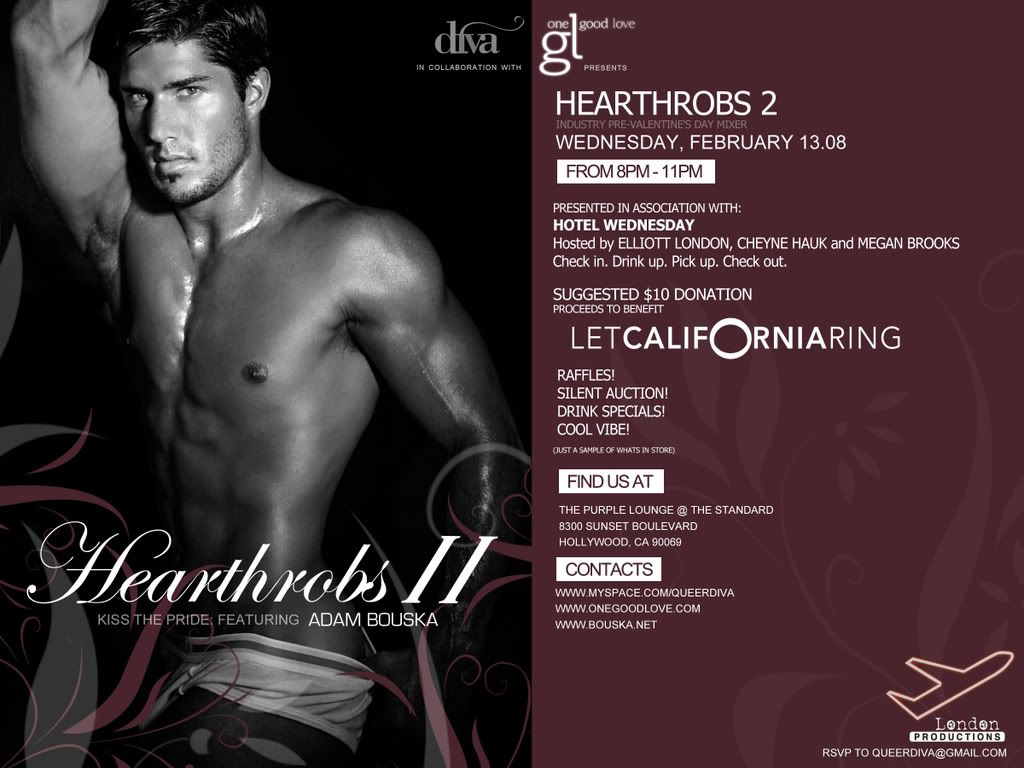 Make sure to catch the new LOGO Show, TransAmerican Love Story!!
theatre

STAY FOREVER: The Life and Music of Dusty Springfield

For more information and tickets click here
.
Dynamic singer/ actress Kirsten Holly Smith brings the great Dusty Springfield vibrantly to life through song and monologue in the world premiere of STAY FOREVER!
Febuary 7-24 Thurs/Fri/Sat at 8 p.m. Sundays at 7 p.m.
The Renberg Theatre, Village at Ed Gould Plaza
1125 N. McCadden Pl.
Los Angeles, CA 90038
"Kirsten Holly Smith is breathtaking in this incredible piece about one of my all-time favorite performers."
-Co-producer Jorja Fox (CSI:Crime Scene Investigation)
Here's a special sneak peak at the show!
theatre

PROVE IT ON ME
Tickets and information on PROVE IT ON ME click here
.
January 19, 2008 - March 2, 2008

Friday & Saturday at 8pm
The Stella Adler Theatre
6773 Hollywood Blvd. Hollywood CA 90028


New Orleans voodoo and Harlem Blues come together like sultry lovers on a hot summer night in 1929 with FORBIDDEN LOVE.
"A touchingly passionate lesbian love story set in New York in 1929, loaded with sultry Harlem blues...inspiring, tension packed direction and fine cast performances!"
Tolucan Times
Starring Sweet Baby J'ai, Aynsley Bubbico, Deobrah Kellar.
FRIDAY, 8 am - 11 am
This Friday, the lesbians take over The Frank DeCaro Show on Sirius OutQ Channel 109.
With special, special guests Suzanne Westenhoefer and Mariah Hanson, curator of the biggest lesbian event on earth,
The Dinah Shore Weekend
.
Don't get Sirius? Listen for free at www.siriusoutq.com and click on Free Trial. For more info click here for
www.siriusoutq.com
comedy
GAYS R US
at the Famous Hollywood Improv
This is my favorite night of the month. For more info go to
http://www.myspace.com/queerontheirfeet
Wednesday, March 5th
8 pm Show time
The Hollywood Improv
8162 Hollywood Boulevard
Save the Date!! LAGLC's Women's Night and GLAAD's Media Awards Show. Click on picture to enlarge invitation.