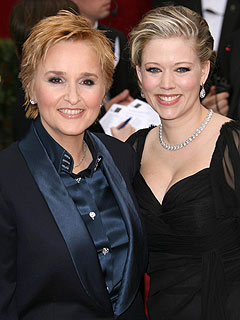 Melissa's reps told PEOPLE magazine: "Melissa and Tammy
Etheridge
are saddened to announce that they are now separated."
I have to admit that a break-up that doesn't involve someone going to rehab, Angelina Jolie or Gloria Alright
repping
someone is getting to be good news for celebs.
The couple have been married 7 years and together a total of 9. They have two children together, and Etheridge, 48, has two from her previous relationship.
They caused quite the reaction during California's Prop 8 marriage battle, when
Etheridge
refused to pay her taxes until she could legally marry, which lead to some
awkward
interviews afterwards with Tammy where she vacillated on the issue (spawned by her family's religious views).
Tammy, 35, is formerly Tammy Lynn
Michaels
and was quite the show stopper on out gay show runner Ryan Murphy's (GLEE) first sit com, POPULAR.
Etheridge
was previously with director Julie Cypher (who was previously with Lou Diamond Phillips), and those two set off a cliffhanger to rival Who Shot JR when they refused to release the name of their sperm donor. Rumors leaned towards Brad Pitt, but eventually came out as singer David Crosby from Crosby, Stills and Nash.
Etheridge is set to appear next Tuesday, April 20th on QVC to do a live broadcast of tracks from her new album, Fearless Love. This is her first studio album in two years.
Here's the new music video for her first single from the album, Fearless Love: